Holy Week is the most important week of the Church's Year. It begins with Palm Sunday.
PALM SUNDAY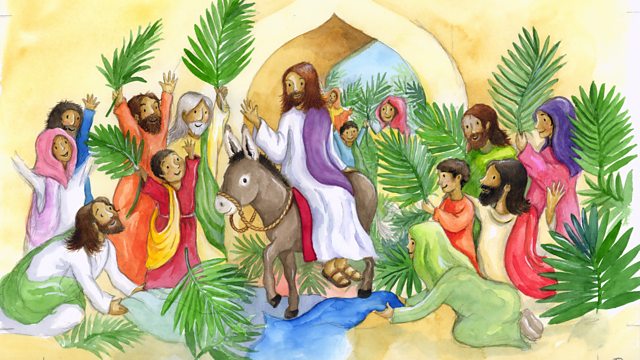 On Palm Sunday we remember the day Jesus rode into Jerusalem on a donkey.
HOLY THURSDAY
On Holy Thursday evening we remember Jesus' Last Supper with his disciples. That evening Jesus washed his disciples' feet as a sign that he came to serve others. He broke the bread and gave it to his disciples and shared the wine with his disciples. He said, "Do this in memory of me."
GOOD FRIDAY
After the supper, Jesus went to pray in a garden just outside the city. There he was captured and taken prisoner. On the the Friday morning, Jesus was put on trial and sentenced to death. Every Good Friday, the Church gathers to kneel at the cross of Jesus. We give thanks for what Jesus did.
Easter Sunday
Every Easter, we celebrate Jesus' rising from the dead. We sing "Alleluia!"-a song of joy.
The Easter Story